Merry Christmas and Happy Holidays to all!
I have had such a fantastic year with my art and photography. I've been featured in new galleries and shows, written about in newspaper and online articles, and even interviewed by the International Foundation For Women Artists. Click here to read the interview again or if you missed it; they asked me some great questions! I entered my very first contest in Bayfield in the fall, and was extremely honoured to receive an honourable mention among many admirable entries. This was the image the judges appreciated: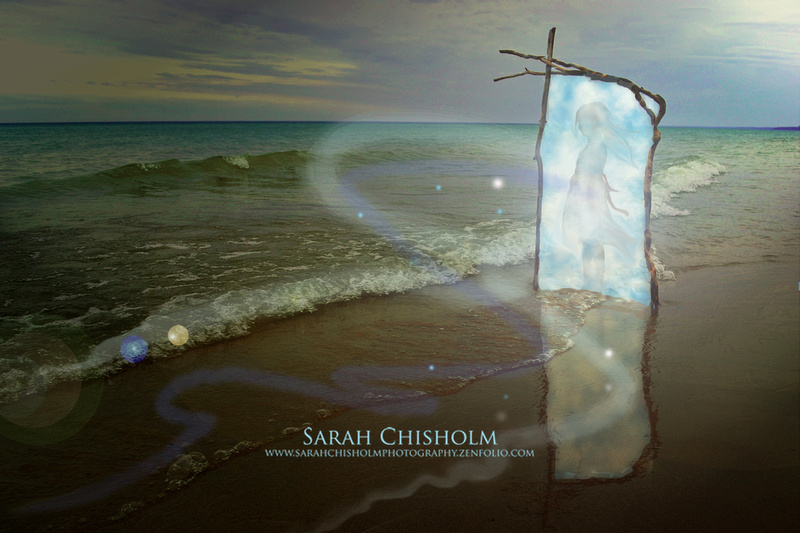 "Girl On The Other Side"
I also met many people who have been fans of my Facebook page or have followed my website for some time now. It is always nice to put faces to the names I've become so familiar with. Some have even travelled far distances to visit, and I am humbled and grateful! It is also especially nice to become more recognized in my "hometown" of Kincardine. You see, I'm not originally from here, but I feel as though Kincardine has adopted me as one of their own, and it's become such a part of my heart and soul, I am so glad to be so welcomed and appreciated. Thank you to everyone who follows my work, near and far.

KIncardine Lighthouse at Christmastime
I care very much for my 'adoptive' town, and while I don't go around making announcements every time, I do give back to my community throughout the year, by donating either my time, a piece of work for auction, or my own money, to various local organizations. After recently receiving some more cards in thanks from various folks, I did a tally and realized that I've contributed to almost two dozen charities and events in 2014!! Wow! It's so wonderful that I've been supported enough by people who enjoy my work to enable me to help support so many great causes in turn. That feels amazing!
So, I'm not going to stop there. I'm going to choose five more charities and worthy causes to donate to before December is through. I feel such love from my community both locally and online, that I want to share the love as well. I invite you to do the same; donate your time or funds to a local cause this year. Consider it a gift you give your whole community - and yourself!
I invite you to comment with your favourite places to help out and donate towards, in case anyone is looking for inspiration.
I hope your holidays are merry and warm, and that you make many happy memories. Feed the birds. Smile at children. Hold the door open. And "be excellent to each other". I love you guys very much! Cheers.
A wintery scene from Lake Huron
Sarah