Hello again! Last week I shared with you all the story behind my Ophelia shoot, and today, I'm sharing the story of the Lake Huron Mermaid. It's been a long time in the making!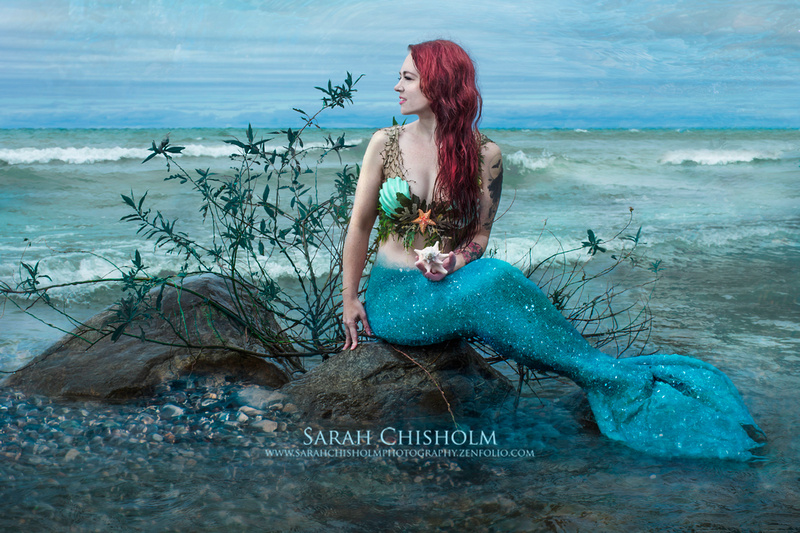 Lake Huron Mermaid

My friend Rex, aka Kristen Holloway of "Roar by Rex", is a multi-talented jewelry maker, sculptor, designer, voice-over actress, and painter, among many other creative roles she plays. The other day, she was also a mermaid! We have been meaning to do this fantasy shoot together for years now, but for various reasons haven't been able to until recently. I'm so glad we finally pulled it off - though not without a few snags, learning curves, and stomach-clutching laughs along the way!
Let's take a moment to appreciate all the preparation and work that Kristen did to become the Lake Huron Mermaid. Not only did she create and sew the long tail by hand, she also sculpted the clamshells for the bralette herself! Wow! She made her entire costume from clay, found objects, and scrap materials. Please do check out her website, www.roarbyrex.com to learn more about her artistic creations!
Rex has been patiently waiting since last summer for our schedules to align and the weather to cooperate, so I could turn her into a real-life mermaid using my camera and digital painting skills. One day last week it seemed that summer was finally performing its swan song, so I knew we had precious few days left to us if we wanted to get in the water for this aquatic-themed shoot. I hailed Kristen and let her know we were on. We were too excited and couldn't wait another year! Even better, I could hear the waves of the lake near my house, indicating that we'd have sparkling water to splash up on the big rock we planned to use as a perch. Kristen came over and got into character, and we packed up my ten-month-old Skye, who would be our prop keeper and musical accompaniment for the afternoon, and headed for the beach.
We got to the rock, and it was clear she wouldn't even be able to cling to it, let alone sit prettily on top of it. The waves were battering the shoreline, and the wind was whipping through our hair and accessories. The rock was submerged, so we scanned the shoreline for a safer spot. Far down there's a bit of a cove, where rocks were sticking out of smaller waves, and trees made for a protective cover. We headed down that way - baby, mermaid tail, camera equipment and all. It was quite the walk, but I'm sure my neighbours got a kick out of it. We reached the cove and found the perfect spot. Sort of. Well, it would do.
Putting on the mermaid tail while balancing on sharp, wet stones in rough water proved difficult, if not amusing. She couldn't walk once the tail was on, so she had to try to don it in place. So, this took a few minutes. It didn't help that we were laughing so hard already. Okay, so she finally got in place up on the rock. Her hair was just slightly wet and the rest was blowing nicely away from her face. I start clicking. Every second picture is of her laughing wildly as a slapping wave knocks her into a different position. It was nearly impossible for Kristen to hold any position, let alone take the time for me to direct her into the perfect pose. More laughter ensued. Skye was singing us the song of her people from her safe and warm vantage point nearby. We may have been mistaken for sirens, but more likely for drunk sailors. We decide to try for the ol' 'mermaid splashing beautifully out of the sea' pose. That's when Kristen really gets wet. So do my shoes, and my butt, and... oh look, I'm submerged too now. Is the camera wet? Yes. Yes it is. But all is well, it will dry. Keep clicking.
With her permission, I just had to share some of the "outtakes" from our shoot - just to give you an idea of what Kristen was putting up with out there in that wild water. (We were only two feet from shore, so she was safe the whole time, please don't send us admonishing messages. We are tough and smart women!)


After trying out a few more poses, we were both soaked but optimistic about our results. For all of the jostling and constant wardrobe fixes, Kristen managed to give me some great poses to work with, and she didn't even get scratched or bruised! Her work was done, but mine was only just beginning. Now I had to work my post-processing magic, not least of which in making her tail look like a natural extension of her body! Kristen did a ton of prep work for this shoot, and so did I - years of learning to take and process photos, developing my own style of artistic expression through digital painting, and then learning to photograph and edit people would all play a big part in the success of our endeavour. Though much of our original ideas were quite literally washed away, I still hoped I could come up with a series of amazing mermaid fine art photographs... and I do love what we've created together. I hope you love them too. I know Kristen feels great about herself after seeing these, and she definitely should; she looks incredible. Here she is as our gorgeous Lake Huron Mermaid.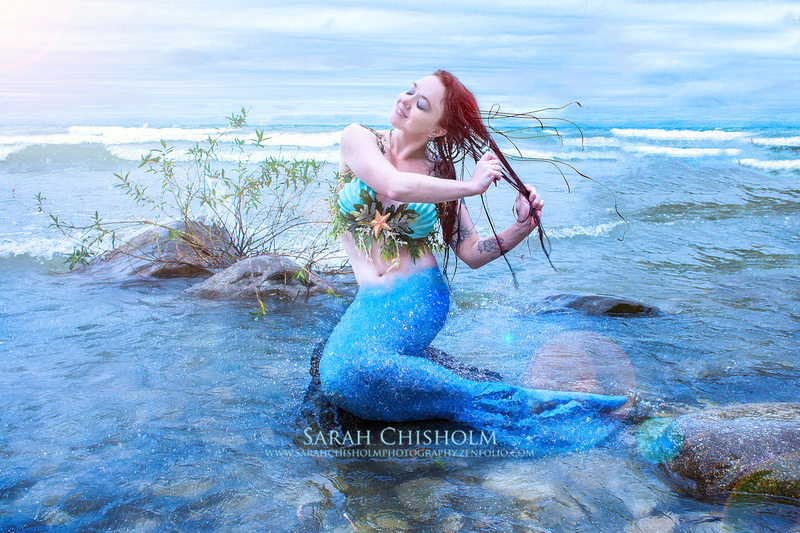 The mermaid uses her found "dinglehopper" (fork) to comb her tresses.



At nighttime, the siren calls to wary sailors out on the distant waters.




A mermaid collects pearls while basking in a sheltered cove.



A butterfly brings the mermaid gifts of pearls.