Four years ago now, in June of 2014, I witnessed a "superior mirage" on the horizon of Lake Huron off the beach near Kincardine, Ontario. When I saw it at that time, it was still a bit daylight, and I could make out actual buildings of a city far away, presumably in the United States across the water. Later at night, I could make out the flashing lights of towers, and the passing of car headlights and taillights. I wrote a blog about, and many people have written to me since to tell their own tales of seeing the mirage.
Tonight I saw the mirage again, this time closer to Tiverton, but the entire horizon was filled with wonder. Just blinking lights and a glow this time, but many, many of them. There should not be anything visible out there in the dark in the vast and wide lake, and it would have to be hundreds and hundreds of boats, which of course does not make sense. Rather it is the lights of distant US cities, visible because of the mirage. Mirages happen when the lake is warm and the air cool, and it was foggy tonight. The light from the distance is refracted and bent within the temperature changes, and projected great distances. We are seeing our neighbours far away!
Of course, I took some photos. Although the mirage was not as vibrant this time around, I am a bit better photographer. (These are edited only for clarity, no lights have been added.)
In the distance on the left hand side are the actually-there lights of Kincardine. Then out over the dark lake you can see the mostly red lights, which were blinking and wavering, and some travelling in one direction across the way. I suspect it is cars passing, towers, windmill lights, and the like.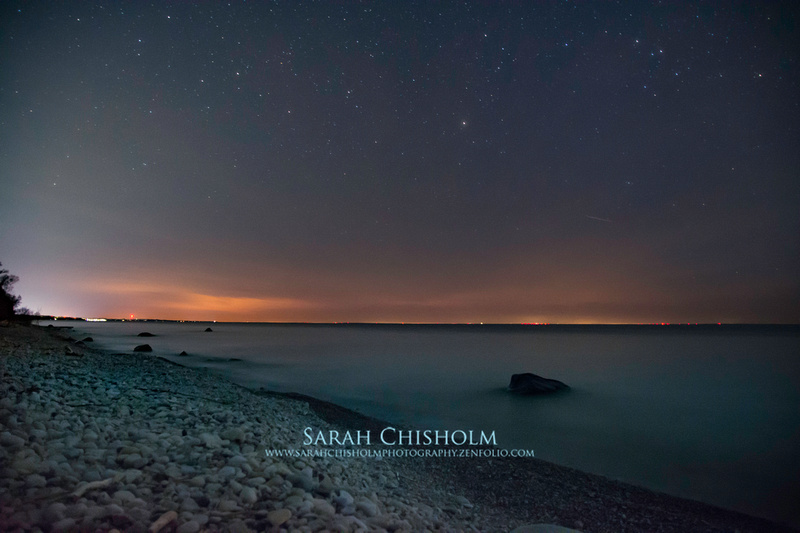 Here's a closer look; note the double horizon. Here's a little secret: I have often gone down to the beach at night, and have successfully seen, the mirage over the years when I've noticed the double horizon during the day. It is not easy to see details when it's daylight and there's haze on the horizon, but at night, those lights are unmistakable. Keep looking!

Thanks for following my work - please share with your friends, and visit my other galleries on my webpage here for gorgeous art prints and more! Cheers.