I have been meaning to update my blog here, and today a long-time fan on social media, Cat M., wrote to me with the request, "Please post your top five favourite pictures of yours". I thank her for the needed inspiration here, though I'm going to be hard pressed to pick just five, because I have such a range of subject matter! I'll try to choose from a range of styles, though truthfully, the ones that speak to my heart are all likely from the fantasy genre. In no particular order, then, I share with you some of my extra special creations.

1. To Bee Or Not To Bee

I love this one because I love bumblebees, and roses, and tiny details and cells, and obviously my usual style is bold colour and fantastical painted details. I spent a long time photographing bees for the image, and painstakingly painted in small details after choosing many of my favourite colours to include. I enjoy creating artwork, and I don't do "snapshots". My style of vivid post-production combining digital painting is not always understood or well-received. I have often been told to "stop doing what you're doing, it's not the right way", and I've never felt such "advice" was acceptable, or even sometimes well-meaning. I created this in defiance of those nay-sayers, going full-out on the editing drama. I posted it with the declaration that I would never worry about whether or not the masses were going to love my work - I was going to make it because I love it, and if some people love it too, well, that'll give me a buzz.
2. The Narwhal Queen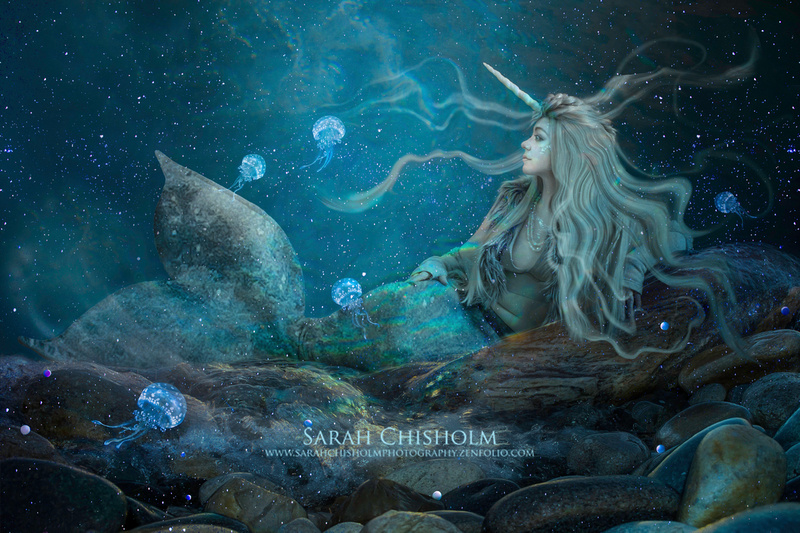 This is probably my current all-time favourite. I have always been obsessed with mermaids and the ocean, and I'm so grateful to have reached a point with my work that I can create my own fantasy creatures and mermaids. The costume and horn that Kristen Holloway of Roar by Rex made after hearing my idea for a "Lake Huron, winter mermaid, Narwhal Queen" were phenomenal. Sharon Lytle created a magical make-up look. The shoot was on a couch in my living room during a raging snow squall, which was not my initial plan, but we swam on anyway. Though I was initially unhappy with what I had to work with indoors, I spent hours perfecting every detail in post-production, and ended up with something beyond what I had dreamed. I love this image.
3. Aqua Lightning
It's got colourful stones, it's got beautiful waters, it's got an epic shelf cloud, and it's got a wicked bolt of lightning. So many of my favourite things in one spectacular image. You can purchase a gorgeous large print framed in deep blue which is currently hanging in the downtown Kincardine Royal Le Page office, if you'd like to take a look at it. I think you'll want to take it home! Contact me for details.
4. Tiffany Timber
So-named because it reminds me of Tiffany stained glass. This is one of my oldest digitally painted images. To me it has a Group of Seven feel, iconically Canadian, with soft blues and turquoises that speak to my soul. I have a whole series of these trees that I love, but this one is definitely my favourite.
5. For The Love Of Vincent
Vincent Van Gogh is one of my favourite artists (isn't it obvious?) and so combining a starry sky with a sunflower field seemed a fitting tribute and thanks for his lifelong inspiration to me. When my husband and I were first dating, we were often gifted with a blaze of meteors from the Perseid showers at night, which were very strong that year. So having the meteors in there is meaningful to me as well.
I'm sure your favourites are different than mine! Please comment with the titles of ones that speak to you! I am always happy to hear from people. Thanks again to Cat for the question as well. Cheers!
Sarah